WICHITA LINEMAN - Open D Tuning - by Jimmy Webb / Arranged by Andy Volk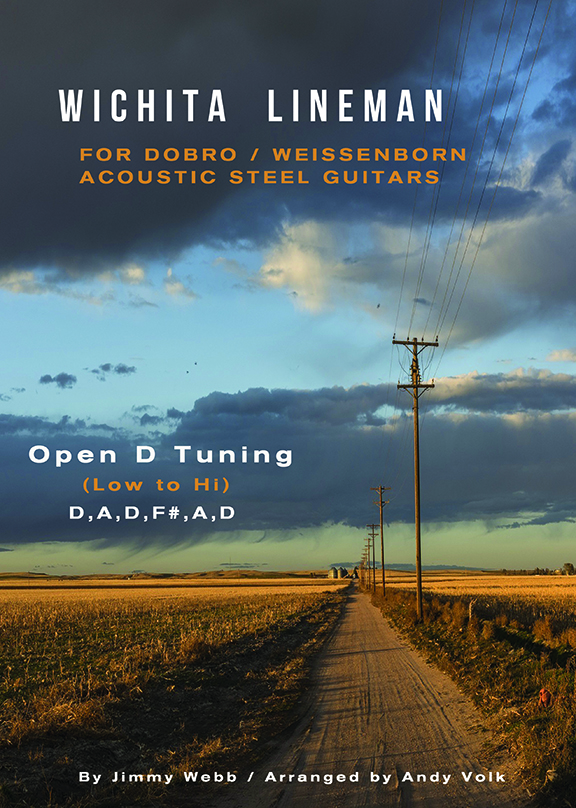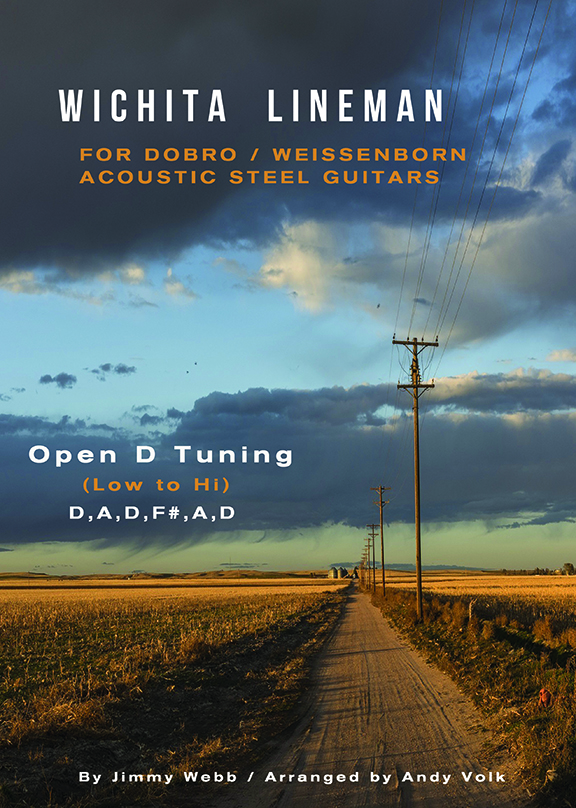 WICHITA LINEMAN - Open D Tuning - by Jimmy Webb / Arranged by Andy Volk
ARRANGED FOR LAP STEEL IN TABLATURE + STANDARD NOTATION (audio sample below)
T he BBC called Wichita Lineman "one of those rare songs that seems somehow to exist in a world of its own – not just timeless but ultimately outside of modern music." It was first recorded by American country music artist Glen Campbell with backing from members of The Wrecking Crew studio band and has been covered by many other vocalists and instrumentalists over the years. My arrangement in D tuning uses open strings to extend the harmony and prominently features the haunting, repeated "telegraph-like" notes of the song's opening bars. This is a re-arrangement of the version that appeared in my book 18 Arrangements for Dobro and Weissenborn and features a re-working of the harmony, as well as re-arranged melody and rhythm in many of the bars of the song. Its classic melody and unusual harmonies make it a terrific song for to capitalize on the best aspects of acoustic steel guitar.
OPEN D tuning
Open D tuning is found in the folk music of many countries around the world. In American Folk and Blues circles, it was often referred to as Vestapol tuning, after a popular 19th Century song played in that tuning. It remains probably the most popular tuning for Weissenborn and Dobro after Open G.
OPEN D MAJOR TUNING
NOTES: D A D F# A D
PLEASE NOTE: THIS ARRANGEMENT IS COPYRIGHTED. VOLK MEDIA BOOKS HAS NOT ENCRYPTED THE FILE NOR REQUIRED A PASSWORD. WE ARE TRUSTING YOU ( THE PURCHASER) TO KEEP IT FOR YOUR PERSONAL USE AND NOT SHARE THIS PDF VIA EMAIL OR ON THE INTERNET.
Note: Midi audio usually sounds closer to a keyboard than a steel guitar but it is useful for demonstrating the rhythms, feel and overall intent of an arrangement or musical passage. Make this music come alive on your steel guitar!